Your ETR (Estimated Time to Read): 5 minutes
Your ETII (Estimated Time to Implement Ideas): 5 weeks
October 2009

In this Issue:
We hope you'll get a chuckle or two with our focus this month on the use of comics. But cartoons can also provide a window to the profound meaning of life. Not convinced? Start with this 99-Word Story about the world's most famous cartoonist then read on and discover how to reveal your own hidden cartoon talents!
Good Grief!
He didn't just invent Charlie Brown; he created the whole universe of Peanuts. Daily comics, Sunday strips, books, TV, movies, products, endorsements, he was involved in all of it – including marketing the "empire." He even drew the cells for the animated flicks.
Charles Schulz was clearly the parent and manager of a world of comic inspiration. Schulz wrote two month's of comics then retired. Astonishingly, he died the day before the last strip ran. The deep connection between passion and purpose was broken.
Sever links to a meaningful life, and you may relinquish your reason for living.

Make Beliefs Comix
It's wonderful when someone takes something complex and makes it simple and easy for the rest of us. That's exactly what Bill Zimmerman has done with his website MakeBeliefsComix.com. Using a point and click interface, anyone can make a two, three, or four panel comic strip to tell a story, express a complex idea in its basic form, or just to have fun.
Zimmerman, a comics-lover since his childhood, has written several books about how to write comics and use them for educational purposes. At his site, all you do is click on one of fifteen different character templates, choose an emotion, then type text into a talk or thought balloon. You can add more characters, re-size images, or flip them around until you get the story you want. Then print it or email it to a friend! Besides creating your own comics at his site, you can find a couple dozen ideas of how to use them for teaching.
The site is great for learners of all ages. The characters are a mix of realistic and fantastical images with a consistently playful tone that would resonate with people in the schoolroom, training room, or boardroom. Use MakeBeliefsComix.com to make your point by creating a series of strips to enliven your next slide show. Ask the participants of your workshop to make their own cartoon that illustrates what they learned during the day. Make a comic to brighten the cube of a colleague. Or experience the shear joy of successfully creating a comic with professional style.
Try your hand at Zimmerman's site then be sure to a copy of what you've created!
Comic Relief
If you like the idea of using comics for learning, the resources to do so are right at your own ink-stained fingertips! Just open the Sunday paper to the funny page and grab a pair of scissors.
Newspaper comics are cheap and readily available. In a few weeks you can easily save enough for a year's worth of workshops – especially if you gather them from more than one paper each week.
People like the funnies. Everyone has their favorite and is able to identify with specific characters. Written as they are for mass consumption, they speak to contemporary themes and can be easily related to current issues. It is this aspect of the Sunday comics that makes them valuable as a training tool.
Spread a few dozen comics on a table and invite people to read them with a metaphorical eye. What aspects of the characters or stories relate to the topic you are teaching? Are there parallel connections or opposite views that point out contrasts and contradictions? If someone were to write a sequel to a particular comic, what would it be?
Looking for more specific ways to use the Sunday funnies to broaden and deepen learning? Click here to download a PDF of my activity, Comic Relief. When you use it, with news of what happened!
Exercise Your Funny Bone
It's your turn now! Here are three different options to try your hand at comic creativity.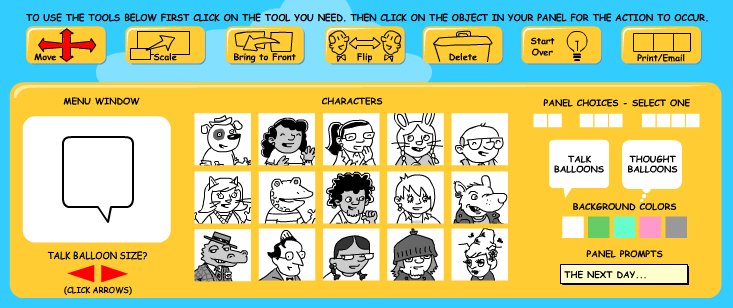 Be Original – Go to www.MakeBeliefsComix.com and write your own comic. Start from scratch or use some of the story prompts you find there. The screen shot above shows the tool pallet with characters and options for manipulating the elements within the frames of the strip. Your comic doesn't have to be especially witty, clever, or even funny. You can start by simply telling a story.
Get a Jump Start – The comic above was made at Make Beliefs Comix. Use it as a template and fill in the dialogue that you think fits with what the characters are doing. For an added challenge, think of an issue that has been prominent in your life for the last few days. Can you come up with dialogue to turn the cartoon into an illustration of that issue?

Change the Equation – Take one of the comics that I've made for this newsletter and re-purpose it for your own use. Change the dialogue to tell a story or make a point that's relevant to you. Alternatively, you can take one of my comics and explain how it is really a metaphor for a problem you are facing at work, at home, or in your community. Here are two more comics to choose from:


Whatever you do, you simply must share what you create or write. Send me an with what you've done and I'll be sure to include it in a future issue of the Firefly News Flash. Thanks in advance and good luck!
Read previous issues. Click Archives!
To add or delete your name to our mailing list, email with a short note in the subject line.
We want this newsletter to be practical, succinct, and thoughtful. If you have suggestions about how we can meet these criteria, please let us know! Send us an with your thoughts and ideas.
Home | Services | Products | Mission | Ideas | The Group | The Buzz
(c) 2009 The Firefly Group