Welcome to The Firefly Group!
Specialists in the use of interactive learning strategies to help businesses and other organizations achieve their goals.
We provide training and facilitation services that are engaging, participatory, result-focused, and fun! If you are looking for an enjoyable way to learn and if you want to include your whole group as valued participants, click through the pages listed here. Then contact us for more information.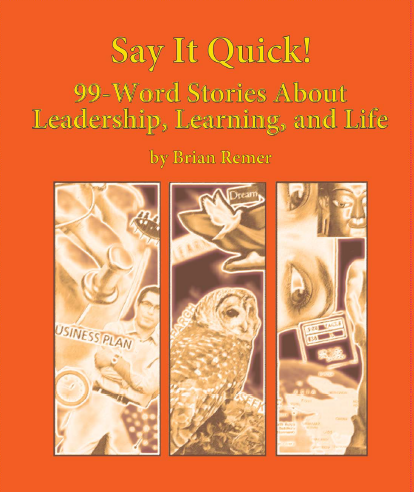 99 Word Stories
Click HERE to see what kind of a message ninety-nine powerful words can deliver!

NEW! Buy the book, Say It Quick!

Try it Out! The Firefly News Flash
Click HERE to read our FREE monthly newsletter designed to spark your passion for continuous learning. The May 2013 issue is now available featuring an interview with trainer, facilitator Lou Russell.

New: Find out how you can get credit for your continuous learning milestones and join the growing list of participants in our Hall of Learning.
Ready, set, glow!

To learn more, contact
Brian Remer
The Firefly Group
339 Bullock Road
Guilford, VT 05301
802 257-7247
brian 'at' thefirefly.org
Updated 4 /24/13

Home | Services | Products | Mission | Ideas | The Group | The Buzz
(c) 2013 The Firefly Group
apartment rambler sausalito ebooktest